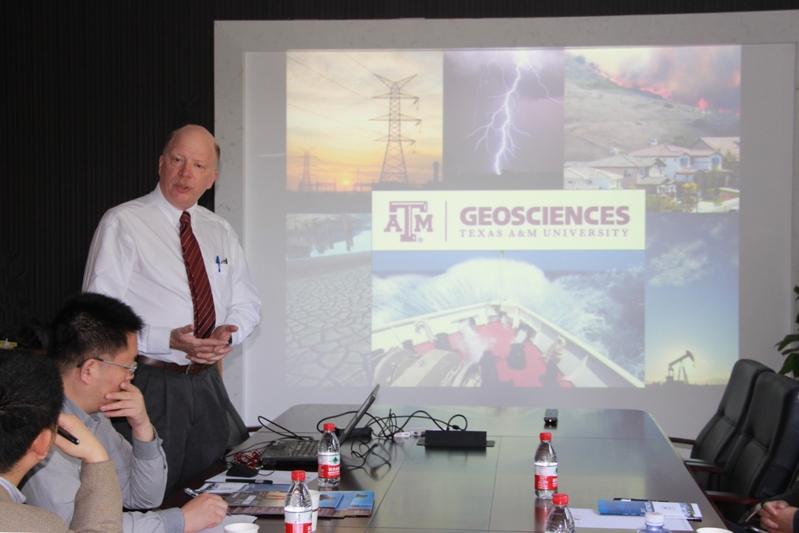 On April 9th, Professor Jack Baldauf, Associate Dean of College of Geosciences, Texas A&M University, and Professor Ping Yang, Head of the Department of Atmospheric Sciences, visited our school. Professor Cao Long and Wang Chen, assistant to the dean, met with the guests. Representatives from both universities also attended the meeting.
Professor Cao Long extended a warm welcome to the guests and introduced the development of Zhejiang University and School of Earth Sciences, emphasizing the achievement in internationalization strategy and international cooperation. Subsequently, Professor Jack Baldauf gave a comprehensive introduction to the College of Geosciences at Texas A&M University and fully expressed his intention to cooperate with our school.
The two sides held a discussion on possible future cooperation in research, teaching and joint training of students. Both parties have agreed on a broad prospect for cooperation and should strengthen the exchanges between teachers and students, and actively seek key areas for cooperation, thus promoting the implementation of joint research and joint training of students. The two sides also shared their experiences in the internationalization of their respective colleges and hoped to create cooperations and achieve a win-win situation in the future.
The next day, the delegation of Texas A&M University also visited the International Campus of Zhejiang University in Haining and exchanged views with Professor Ding Guanzhong, the vice president of the campus.