June 24th, Professor Long Cao, director of Institute of Climate&Weather Information and Forecast at Zhejiang University, received the WMO (World Meteorological Organization) Norbert Gerbier-MUMM International Award for 2014 at Geneva,Switzerland.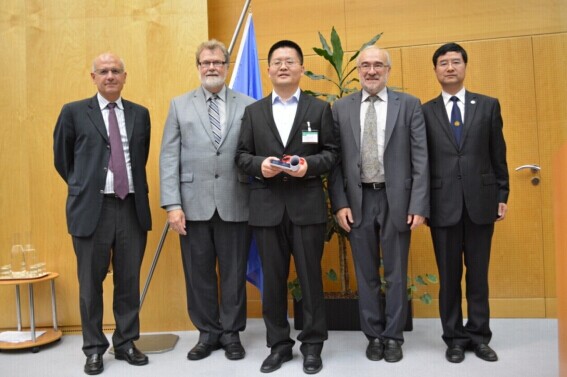 From left to right: J.M Lacave PR of France with WMO; WMO President David Grimes; Cao Long from Zhejiang University; WMO Secretary-General Michel Jarraud; CMA(China Meteorological Admistration) Deputy Administrator Shen Xiaonong.
The Norbert-Gerbier-Mumm International Award rewards an original scientific paper on the influence of meteorology on the physical, natural or human sciences, or conversely, to stimulate research on the influence of these sciences upon meteorology, thereby contributing to WMO Programmes and activities. The award is named after Norbert Gerbier, who was president of the WMO Commission for Agricultural Meteorology from 1979 to 1985.
The Norbert Gerbier-MUMM International Award for 2014 was awarded to the paper "Climate response to changes to atmospheric carbon dioxide and solar irradiance on the time scale of days to weeks" that was published in Environmental Research Letters in 2012, Volume 7. This paper was led by Dr. Long Cao from Zhejiang University, and co-authored by Dr. Govindasamy Bala from the Center for Atmospheric and Oceanic Science, Indian Institute of Science, and Dr. Ken Caldeira from the Department of Global Ecology, the Carnegie Institution in the USA.