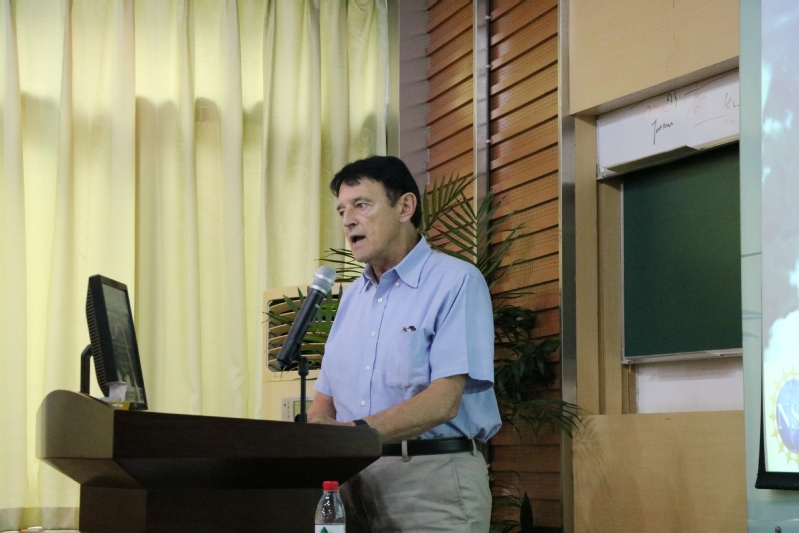 Thomas Dunne, member of the U.S. National Academy of Sciences and professor of University of California Santa Barbara, visited Zhejiang University(ZJU) on the On September 27 and gave a lecture on "Sediment Source of Amazon Floodplains: Environmental Implications" at School of Earth Sciences(SES) of ZJU.
Professor Yang Xiaoping from SES presided over the lecture and gave an introduction of Professor Dunne to the audience. Dunne's lecture first introduced the geomorphic features of floodplain and the significance for the ecosystems and people. Then, beginning with the evolution of the Amazon floodplain as the entry point, Dunne showed evidence of channel migration via satellite and explained the sources of sediment for Amazon floodplains and the construction of floodplain water bodies. He determined that the channel migration and formation of new cutoff channels jointly formed the floodplain morphology through numerical simulation and theoretical analysis. Finally, Dunne concluded with his views on water conservancy facilities such as dams, flood dikes, etc., which interrupt sediment supplies and the river restoration. In the discussion session the audience actively asked questions and expressed their views. Professor Dunne answered all questions and exchange views with the audience.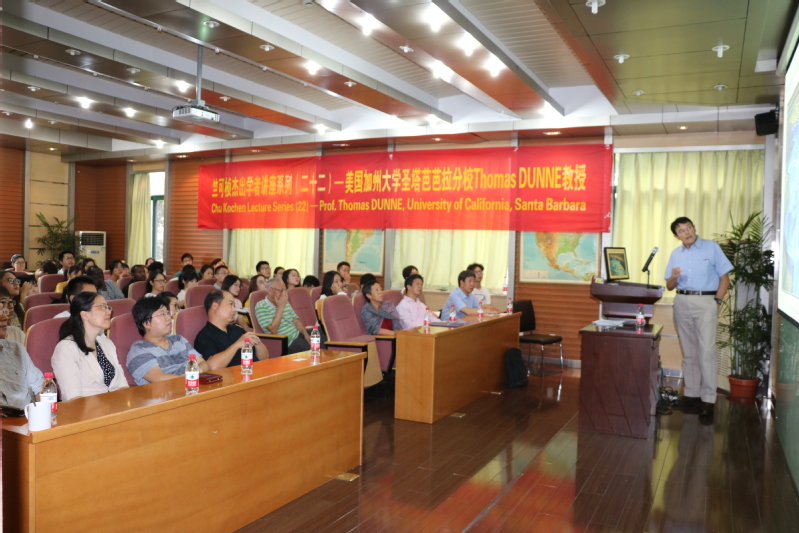 At the end of the lecture, Ms. Xu Ying, Deputy Director of Office of International Relations thanked the professor and presented him with a memorial bronze statue of Chu Kochen.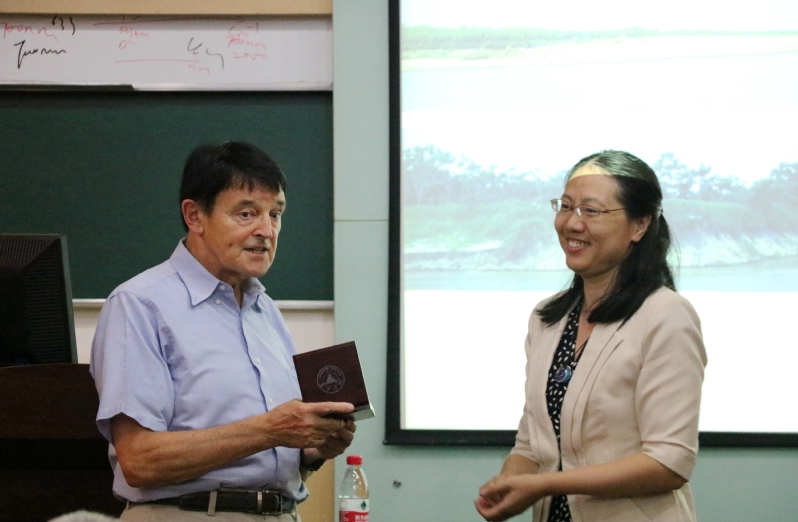 This lecture was part of the lecture series of "Chu Kochen Distinguished Scholar" and supported by Zhejiang University Education Foundation (USA). The lecture series invite overseas renowned experts and scholars with strong academic influence in various fields and award them with the title of "Chu Kochen Distinguished Scholar" to give public lectures at ZJU. Professor Thomas Dunne has made remarkable scientific achievements in geomorphology, hydrology, sediment transport, etc. He has published more than 150 papers in SCI journals such as Nature, Geophysical Research Letters, Nature Geosciences and his work has been referenced more than 21000 times. He also published "Water in Environmental Planning", a classic textbook in the field of hydrology and environment.
The lecture attracted nearly 100 students and teachers from different departments of the university. The lecture hall was packed and full of enthusiasm. Professor Dunne's concise and humorous teaching method greatly benefited the audience and all appreciated the outstanding scholar's demeanor. There is no doubt that this lecture has played a positive role in promoting the international exchange of geosciences and related disciplines in Zhejiang University.