The inaugural United Nations World Geospatial Information Congress (UNWGIC) is being held in Deqing, east China's Zhejiang Province, from Nov. 19 to 21. UN Secretary-General Antonio Guterres sent a video message to the congress Monday, expecting the UNWGIC to "use geospatial information to build a safer, better world where no one is left behind."1

Themed "The Geospatial Way to a Better World," the UNWGIC aims to advance the potential and usefulness of geospatial information for sustainable development and to tackle global challenges.Delegates from more than 100 countries and regions, geospatial information organizations, and academic and research institutions attended the conference.2
Zhejiang University (ZJU) was among the invited exhibitors at the Conference. In the morning of November 19th, Lu Hao, Minister of Natural Resources of China and Yuan Jiajun, Governor of Zhejiang Province visited the booth of ZJU. Associate professor Du Zhenhong from School of Earth Sciences (SES) presented the school's achievements in the field of geographical information and remote sensing. Minister Lu Hao and Governor Yuan Jiajun gave full recognition and high praise to the achievements, and encouraged the research team from SES to continue focusing on globalization and application services of geographic information and make greater breakthroughs in scientific and technological innovation.
SES has concentrated its researches in spatio-temporal modeling, remote sensing, spatio-temporal big data and artificial intelligence, and has formed a distinctive talent training and scientific research base. The school has cultivated a large number of high-level talents in teaching, researching and management in the field of geographic information science, and provided multiple forms of services for government management and contributed to the improvement of people's livelihood.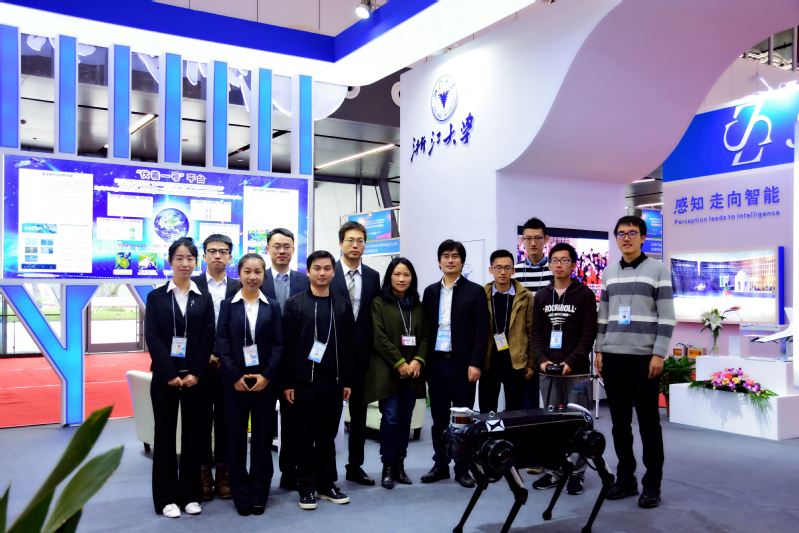 During the exhibition, the project of National Key Research and Development Program of China "Research on Key technologies of global integrated observation data management and shared service system" led by Professor Liu Renyi's team from SES has won extensive attention. The system will promote the comprehensive application and service capabilities of domestic satellites and at the same time serve the major national strategies, such as the Belt and Road initiative and the maritime strategy.
In the era of rapid development of mobile Internet, satellite navigation and artificial intelligence, SES will continue to forge ahead and contribute to the development of world geographic information.
1 http://www.xinhuanet.com/english/2018-11/20/c_137618074.htm
2 http://www.xinhuanet.com/english/2018-11/20/c_137618074.htm