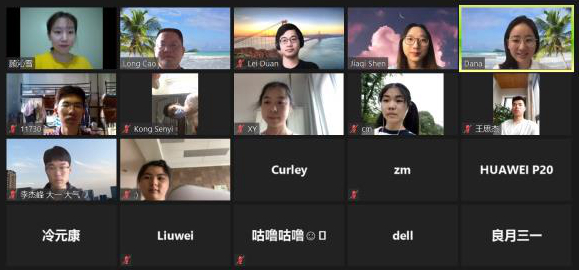 On the morning of May 10th, SES organized an online alumni sharing session (Atmospheric Sciences) through zoom online meeting.
Gu Qinxue, PhD student of Pennsylvania State University; Shen Jiaqi, PhD student of the University of California, Los Angeles; and Duan Lei, postdoctoral research fellow of Carnegie Institution for Science, were invited to share their experience of studying abroad and research experience.
Cao Long, Vice Dean of SES; Li Weijun, head of the Department of Atmospheric Sciences; Shao Danlei, International Program Coordinator, and more than 20 undergraduates majoring in atmospheric sciences attended the sharing session.
Gu Qinxue shared her PhD application experiences from several aspects, including research experience, recommendation letter, GPA and English language Tests, access to the related information etc.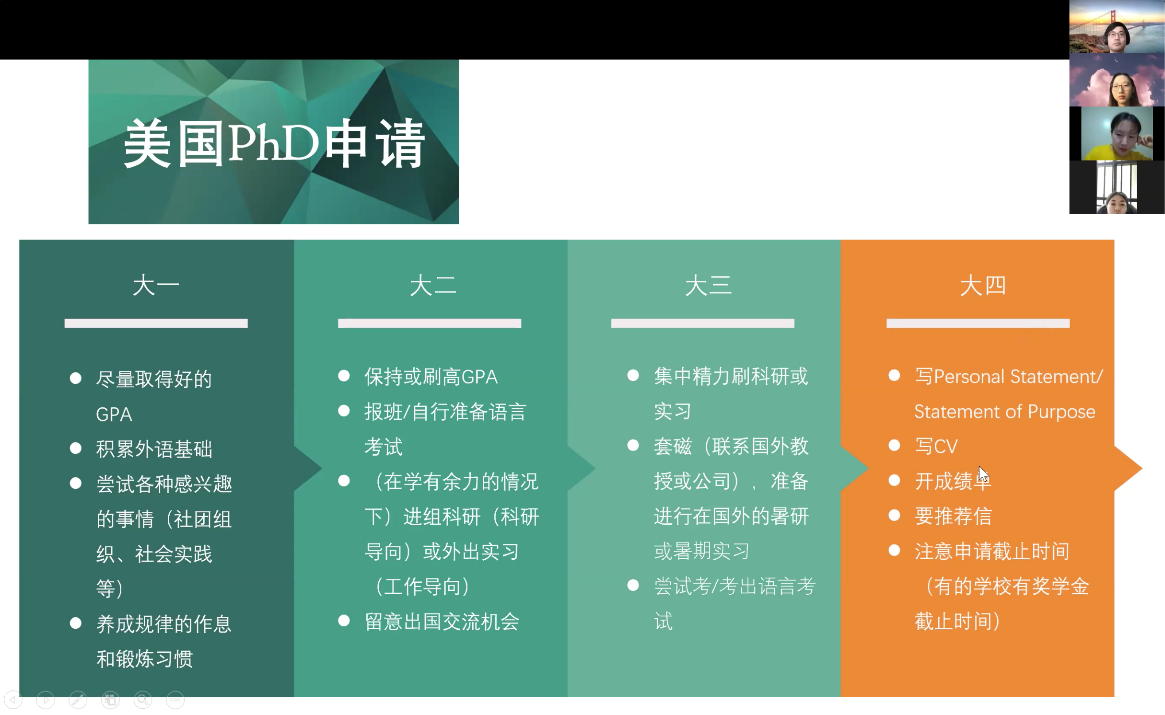 Gu Qinxue also introduced an ideal timetable for planning to study abroad. During the first year, it is important toimprove the level of English proficiency, and join the student organizations. It is better to focus on improving GPA, preparing for the English language test, participating in the scientific research program or internship, and keeping an eye on the exchange or study abroad opportunities in the second year. In the third year, it is time to take the language test and join an overseas summer research program and prepare the letters of recommendation, complete personal statements and resumes and apply the intended PhD program in the final year.
Shen Jiaqi introduced her research area, undergraduate experience and PhD program application tips. She did not have a clear goal in the beginning of the university life, but gradually found her goals in life through trying new things. She used her rich experience as an undergraduate student to encourage us to take the courage to try new things.
Taking minor in Undergraduate of Public Administration (UPA), participating in the "Discourse on Politics" Contest and "Lanjing Cup" National University Meteorological Science and Technology Innovation and Entrepreneurship Competition, applying for the National Student Innovation and Entrepreneurship Training Program and Zhejiang University Student Research and Training Program (SRTP), participating in the UCLA "Cross-Disciplinary Scholars in Science and Technology (CSST)" program and other diversified experiences all helped her to get her UCLA PhD offer.
These seemingly unconnected experiences have cultivated her comprehensive ability in all aspects of communication, leadership, innovation, and scientific research ability.
Among them, the CSST program has greatly strengthened her scientific research ability and firmed her idea of going to UCLA for further study. This program accept a certain number of Zhejiang University students every year and she highly recommend the program.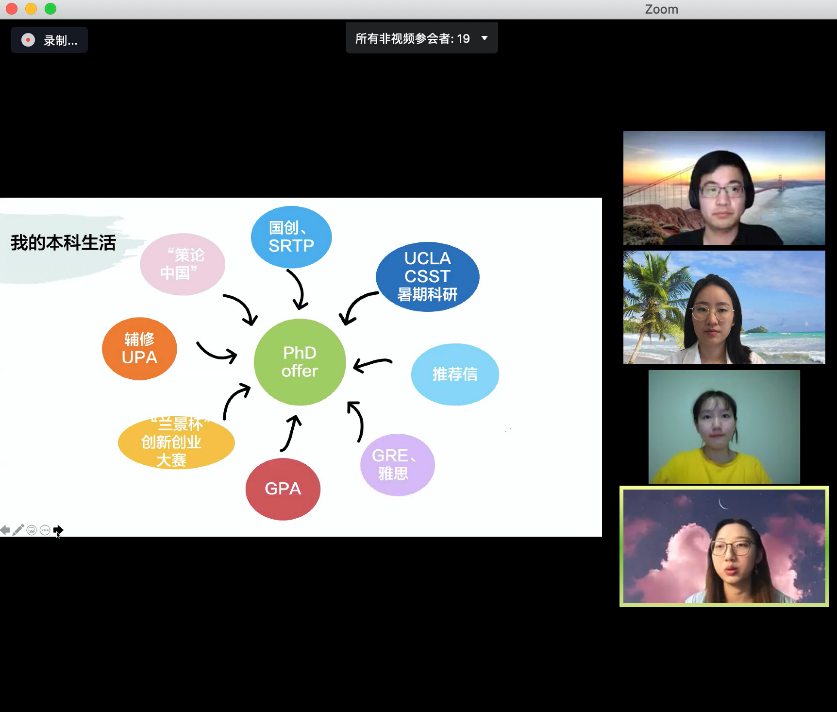 Duan Lei introduced the Carnegie Institution for Science, reviewed the learning experience at Zhejiang University, and compared the difference between being postdoctoral research fellow and a PhD student.
The Caldeira Lab where Duan Lei is working at composed of Principle Investigator (PI) and postdoctoral fellows. Their research areas include global climate change, climate change and marine ecology, the economics of climate change, and macro-energy system simulation (MEM).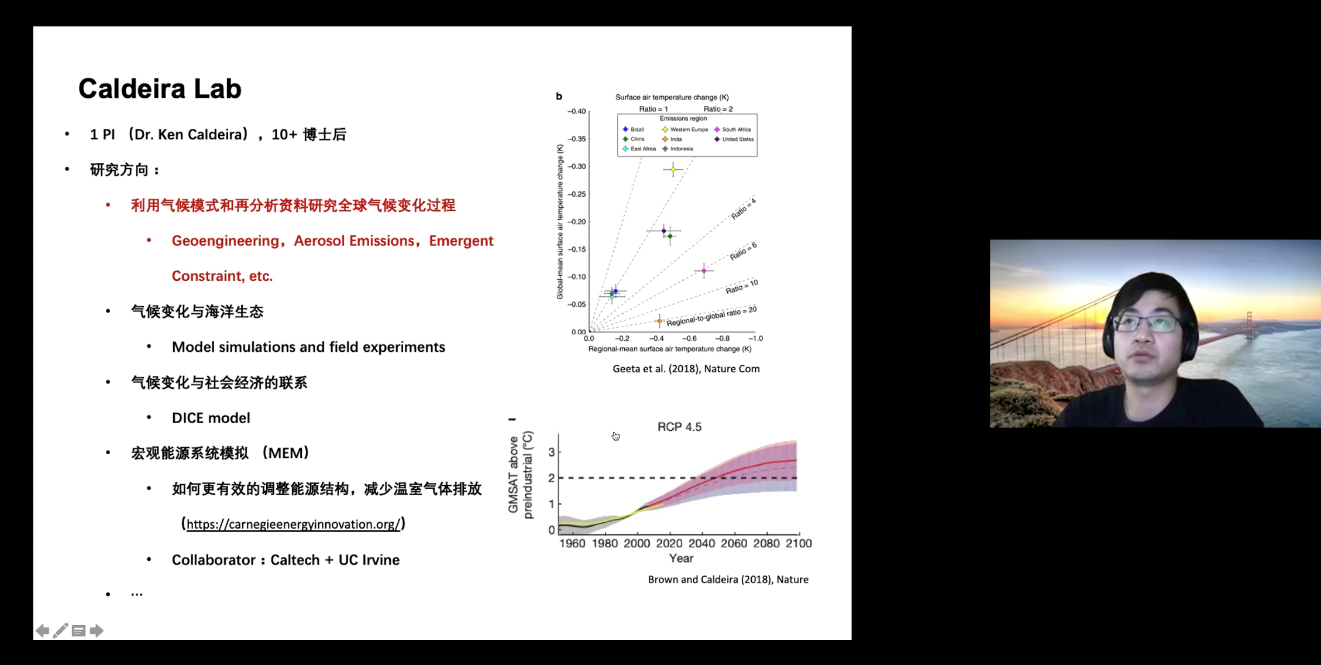 Looking back on his study experience at Zhejiang University, he believes that it is necessary to pursue a Master's or Doctor's degree, which helps cultivate problem-solving skills and is of great importance for further study or work in the future.
Comparing the difference between being a postdoctoral fellow and a PhD student, he believes that postdoctoral work is essential experience when it comes to applying for positions in colleges and universities. The results achieved in the post-doctoral stage are more representative of one's scientific research capabilities. In his work, post-doctorate have more dominance, more discussion and cooperation with cooperating tutors, greater freedom in scientific research, and more opportunities to expand research directions.
Along the way, in Duan Lei's view, the key to self-improvement is to cultivate problem-solving skills, study and work hard, and work with outstanding people.
In the Q&A session, the students discussed about the access for overseas exchange information, whether it is necessary to hire an overseas study agency for application, the application of machine learning in climate forecasting, and learning programming languages with the three alumna.