On November 30th, 2020, the Ministry of Education released the list of the first batch of national first-class undergraduate courses. The course Meteorology taught by Associate Professor Shu Shoujuan from the School of Earth Sciences, Zhejiang University was selected as one of the national first-class online courses.
In accordance with the plan of improving the quality of undergraduate courses of Ministry of Education, followed the recommendation from relevant educational departments, bureaus and institutions of higher education affiliated with ministry of education, and reviewed by experts, a total of 5,118 courses were selected, including 1875 online courses, 728 virtual courses, 1463 offline courses, 868 online-and-offline mixed courses and 184 social practice courses.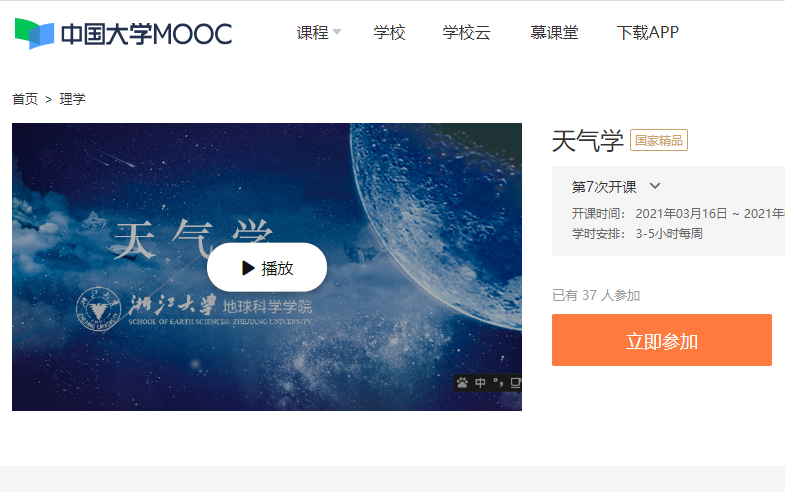 The course Meteorology of School of Earth Sciences is one of the eight courses which were selected into the first batch of national first-class undergraduate online courses in Zhejiang University.
Meteorology is taught by Shu Shoujuan, together with 3 faculty members from the Department of Atmospheric Sciences Professor Zhai Guoqing, Associate Professor Zhu Peijun and Lab Technician Liu Rui. It is the first MOOC course in China in the field of meteorology which was started in 2017 and opened to the public on the Massive Open Online Course (MOOC) since March 2018.Up to now, the course has been run for 6 terms, with the totally of more than 20,000 students and more than 12,000 Q&A records.

Students have been giving positive feedbacks on the course. One student wrote that the course has played an important role when he was preparing the Chinese Earth Science Olympiad. Thanks to course he finally won the championship and later won the gold medal of the International Earth Science Olympiad (IESO) as a member of the Chinese team. Some of the students were instructors of Chinese Earth Science Olympiad, and some were admitted to their dream university after taking the course.
During the COVID-19 pandemic, the teaching team provided high-quality online resources for World Meteorological Day activities for more than ten provinces, and guaranteed the atmospheric science popularization education activities were held as usual during the pandemic.